Hospitable stations are crucial assets in NS's strategy. Our stations are mobility hubs that contribute to the local environment and, as such, play a significant role in urban development. In recent years, NS and ProRail joined forces to upgrade the range of basic services at our stations in the Netherlands, ensuring a pleasant, comfortable and safe environment for passengers.
NS Stations is responsible for daily operations at all stations in the Netherlands, comprising management (clean, intact and safe), services (bicycle and car parking, toilets, waiting facilities) and commercial operation (lease of property and own retail space). In doing so, we focus on the additional facilities that make the time passengers spend on our trains and at our stations more enjoyable, with due regard for the size of the station and the number of passengers. In addition, in cooperation with ProRail NS contributes to the development and realisation of renovation and new construction projects for stations. Finally, we also contribute to area development with our partners.
Facilities and services
We distinguish between different types of stations with the associated facilities, depending on station size and the number of passengers served. We strive to realise a specific number of services for each station type.
Station type

Number

Boarding and disembarking per day

Provisions

6

>75,000

Cathedral

(Amsterdam Centraal

The Hague Centraal

Utrecht Centraal

Rotterdam Centraal

Amsterdam Airport Schiphol

Leiden Centraal)

21

25,000-75,000

Mega

(including Arnhem Centraal

Eindhoven Centraal

Zwolle

Groningen

Dordrecht)

27

10,000-25,000

Plus

(including Enschede

Leeuwarden

Roermond

Duivendrecht

Ede-Wageningen)

230

1,000-10,000

Basic*

(including Baarn,

Geldermalsen

Kampen)

117

<1,000

Stop*

(Harlingen Haven, Heerlen de Kissel, Santpoort Zuid)
*

The station types Basic and Stop include stations with and stations without a station building. At stations with a station building, multiple facilities can be realised. This is not possible at the stations without a station building. Another factor that determines the availability of (specific) facilities is the number of passengers getting on and off the trains.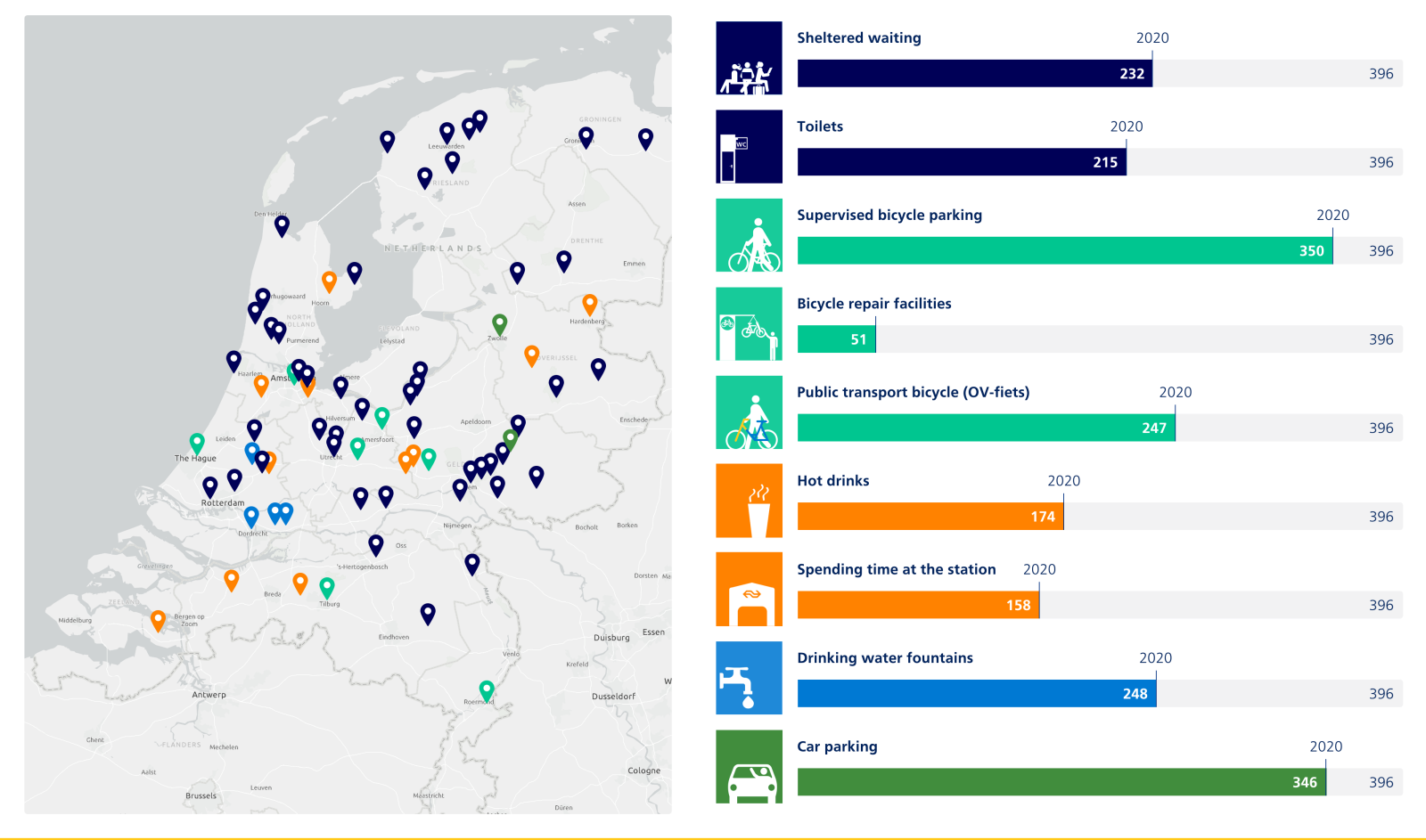 Station management
The government has decided that the roles, responsibilities and ownership arrangements regarding the stations will remain unchanged. Within these existing frameworks, ProRail and NS Stations have outlined the preliminary contours of an enhanced partnership model. It has also been decided to draw up a 'station agenda'.
The station experience
NS Stations offers a range of services at the stations, depending on their size, to ensure visitors have a pleasant stay and can make the most of their time. In 2020, 79% of customers gave a score of 7 or more out of 10 for our stations. The score was particularly high in the third quarter, when the measures taken at the stations and the lower passenger volumes resulted in an enjoyable travel experience. In addition, there was a higher share of passengers who travelled for social or recreational purposes; among this group, satisfaction with the stations is generally higher. Extra cleaning activities also helped to increase satisfaction scores. There was no measurement in the second quarter.
| | | | | | |
| --- | --- | --- | --- | --- | --- |
| | 2020 | 2019 | 2018 | 2017 | 2016 |
| Customer satisfaction survey on stations | 79% | 77% | 76% | 73% | 70% |
Hospitable atmosphere at the stations
In 2020, NS Stations and its partners including ProRail once again made improvements to various stations. We invested in facilities that add to a hospitable atmosphere, also at the smaller stations, such as toilet facilities, drinking water fountains and improved parking facilities for cars and bicycles. We are looking for suitable solutions for vacant premises at the stations to improve the atmosphere and personal safety while retaining the distinctive character of the property concerned and taking proper care of our heritage. The results of a survey on waiting areas conducted in cooperation with ProRail, the University of Amsterdam and the Weekend of Science initiative will serve as input for the design of new waiting facilities.
No smoking at NS stations
The last facilities for smokers, such as smokers' columns and ashtray tiles, were removed from the platforms in September. Since October, smoking has been banned from all NS stations and platforms as part of NS's and ProRail's contribution to a smoke-free generation. Since 1 April 2020, moreover, we have banned all tobacco and other smokers' products from our own shops (Kiosk and the StationsHuiskamer). Effective 1 January 2021, our AH To Go outlets also stopped selling such products. Since 2020, we no longer enter into contracts with new or existing lessees that want to sell tobacco at the station.
AEDs at the stations: launch of tendering procedure
In 2020, NS launched a tendering procedure inviting bids for the installation of AEDs (automated external defibrillators) at all stations. In this way, we and ProRail aim to contribute to a nationwide AED network. A person who suffers a cardiac arrest has the best chance of survival if reanimation using an AED is started within six minutes.
Increasing social and local engagement
In 2020, NS Stations launched an action plan aimed at promoting social initiatives at the stations. One example is Restaurant Buitensporig at Tiel station, whose staff members include people with a mental or physical handicap. Another example is Zuivere Koffie in Zaandijk (Zaanse Schans), where former prisoners are trained in traditional crafts. These initiatives serve to strengthen the connections between our stations and the surrounding urban or village environment, as part of our effort to ensure, together with our partners, that stations are more than just a place for people to catch a train. Want to know more about these initiatives? Visit www.oponsstation.nl.
Clean stations
The COVID-19 crisis prevented us from measuring our customers' satisfaction with cleanliness at our stations. The drop in passenger numbers in 2020 did however create space to devote more attention to the cleaning of contact surfaces, perform activities earlier than scheduled and increase the overall cleanliness of our stations, in consultation with our clients (including ProRail and municipalities). We have also extensively tested several innovations or already put them into practice, such as graffiti detection sensors. In addition, in an innovation platform we are partnering with our cleaning services provider on the use of sensors in garbage bins.