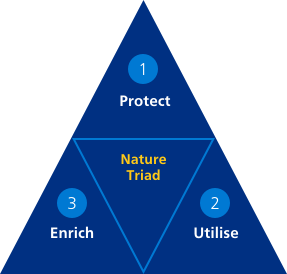 2020 was the first year in which Green Enterprise was highlighted as a priority within the context of sustainable business practices. A strategy and a range of targets have been set which are aimed at further 'greening' NS over the coming decades. The overall objective is to make a positive contribution to biodiversity, health, climate change, climate change adaptation and inner-city land development initiatives. This will make NS more attractive and better prepared for the future. Our guiding principles in this process are 'protect, utilise and enrich'. 
Protect 
Together, our stations feature 65 hectares of green areas. We carefully maintain these areas, and when plants and trees die or lose their vitality, we replace them. We control invasive exotic species using natural predators where possible, for example by providing nest boxes for great tits to control oak processionary caterpillars. These measures are commissioned by ProRail. 
Utilise 
Climate change is confronting us with more extreme weather conditions, such as flooding and extreme heat. Additional green spaces may provide a solution to some of those problems. For example, we can plant trees to avoid heat stress and benefit from natural drainage features ('wadis') and green roofs to catch and absorb rainwater.
Enrich 
The use of more plant species suitable for the local environment will increase biodiversity. In 2020, we did this at 21 of our stations, planting new prairie species, perennials and mixed flower seeds, covering a total of 1.4 hectares. In addition, in 2020 we planted so-called veteran trees at ten stations. Veteran trees are trees that receive special care to allow them to grow old and remain healthy and attractive. We also plant flowers and plants around veteran trees to promote biodiversity.